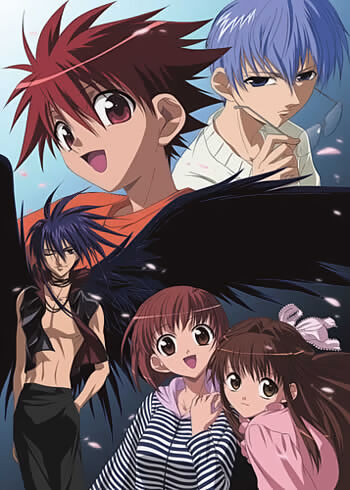 D.N.Angel was adapted into a 26-episode anime series produced by TV Tokyo, Dentsu and Xebec which aired in Japan on TV Tokyo from April 3 to September 25, 2003. The series was directed by Koji Yoshikawa and Nobuyoshi Habara.
The series was originally licensed for release in North America and the United Kingdom by ADV Films[1]. While in the UK the series is no longer licensed, in North America Discotek Media have announced the rescue-licensing of the series.[2] The series is licensed in Australia and New Zealand by Madman Entertainment[3].
Being a young teen is hard enough for most boys, but Daisuke's is a particularly hard destiny and he doesn't even know it yet. Every male of the Niwa family possesses a peculiar gene that matures on their fourteenth birthday and is activated when he's in love. Now any time Daisuke becomes enflamed with Risa, the object of his desires, he transforms into the legendary thief Phantom Dark. The only way to return to normal is to win the affection of his true love, but she only has eyes for Dark. And she's not the only one: Daisuke's eccentric mom, the entire police force and the boy genius Satoshi, who harbors an even darker secret than Daisuke, all have their reasons to capture Dark. Now Daisuke has to keep his secret in the dark as he steals magical items for his family and attempts to steal the heart of his true love.[3]
Main Article: Anime Characters
The D.N.Angel anime characters list differs from its manga counterpart: a few characters exist only in the anime (like Mio Hio), and many manga characters (like Argentine) don't appear in the anime. Characterization may also be different from one media to the other.
Main Article: Episodes list
Main Article: Music
Community content is available under
CC-BY-SA
unless otherwise noted.